Summit Council Finance Committee Chairman Jerry Feeman ended the two-hour session with no opposition presented to County Executive Russ Pry's request for a quarter of a percent sales tax hike to be put before voters this fall.
Two-thirds of the estimated
$20 million a year the tax
would generate would shore up budgets of the sheriff's department, including the jail, and to pay for new dispatch radio and 911 systems. Sheriff Steve Barry says budget and staff cuts have his department down to manpower levels that are unsafe, especially at the jail.

"For the 642 inmates during the shift last night, we a total of approximately 20 personnel in the jail. It is unsafe and it needs to be changed."

All those in favor
Though no one rose to speak against the sales tax idea, a dozen and a half spoke in favor of it. And many focused on the jail and safety.

The Rev. Melford Elliot of Akron cautioned, "Just by chance, your son or daughter gets put in custody. Be a good kid, but because of the condition of the jail something horrific could take place. Now I know that for certain because I've been down there. And the atmosphere is very thick. I say we need to do what needs to be done."'

Communications issues

Others who spoke pointed to critical communications issues and the need for the new $15 to $30 million communications system. But, only two-thirds of the money that would be raised by the tax would address such things. About $7 million a year from the tax hike would fund a new $80 million downtown arena.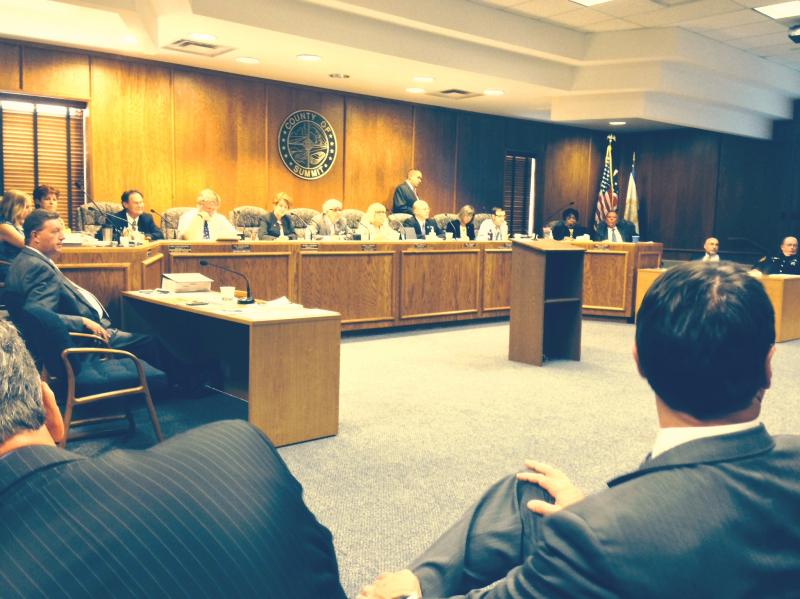 Blending of two disparate purposes for a single tax
"People said, why don't you split this into two different ballot issues? The problem is, under state law you can't do that," said County Executive Russ Pry. "The minimum amount that you can go for is a quarter of a percent. And so that's when we looked at it. We identified the public safety needs, with the capital costs. And we got to where we are at we knew there would be additional funds."
About $7 million a year as it happens, and that is what the county administration wants to use for the arena, to be built across from Canal Park to create an even more robust sport and entertainment area in downtown Akron.

State and federal cuts
Akron resident Joe Bailey told the council that cities and counties are now pretty much on their own when it comes to funding -- whether it's for safety forces or economic development. Federal and state budget cuts make that a reality.
"You saw the cuts the state has made. You know, local government is where the rubber hits the road. And everything has been pushed back to the local government. If you're the governor, the president, or congress, you can have rose garden ceremonies, and pass bills, and you can do wonderful things. But we know where the buck stops. That's what's happening here…and we all know it."

The tax increase, if passed would add about a nickel to a $20 purchase in Summit County. It would also raise the overall sales tax to 7 percent, still among the lowest among Ohio counties.