Loading...


Government and Politics



Monday, June 9, 2014




Second hearing tonight on Summit sales tax hike




County wants to go to voters in November to OK the hike to 7 percent.


by WKSU's M.L. SCHULTZE


and

TIM RUDELL



Web Editor
M.L. Schultze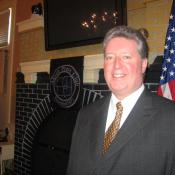 Summit County Executive Russ Pry says the blending of funding for the arena and safety forces makes sense.
Courtesy of TIM RUDELL
Download (WKSU Only)
In The Region:
Summit County Council will hold the second of two hearings tonight on a proposed sales tax hike to fund a new basketball arena and upgrades for the Sheriff's Department. County Executive Russ Pry is proposing the boost from 6.75 to 7 percent. That would raise about $20 million a year, about two-thirds of which would be used for the county jail operations, emergency radio and dispatch, capital projects and employee raises. Roughly $80 million would go toward building the arena across from Canal Park, where the University of Akron basketball teams would play. Pry acknowledges the blending of arena and safety issues may seem like an odd pairing.
"No question that we knew there were going to be additional talks and questions about the arena with this project. The arena has been discussed for 20 years. However, I believe it's a great opportunity. The city and the university have come to an agreement on a location, so I think it has been well-thought-out."
No opponents spoke at the first hearing last Monday, but they have formed a Facebook page and claim the safety forces are being used as a front to sell the arena.
The second hearing begins at 7 tonight at County Council chambers on S. Main St. If council OK's the plan, voters will see it on their November ballots.
---
---
---
Stories with Recent Comments