Loading...


Government and Politics



Tuesday, June 3, 2014




Cuyahoga Valley National Park asks the public for clues on toxic dumping




National Park Service is trying find more information on the October crime




by WKSU's LYNDSEY SCHLEY



Reporter
Lyndsey Schley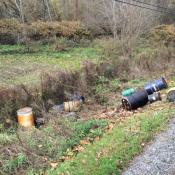 The park service is looking for information on these barrels dumped in the Cuyahoga Valley National Park.
Courtesy of Ohio EPA
Download (WKSU Only)
In The Region:
The National Park Service is asking for help from the public in finding out who dumped dozens of barrels containing toxic materials in the Cuyahoga Valley National Park in October. Mary Pat Doorley says the park service found the drums containing petroleum, paint and other hazardous waste on Ira Road the evening of Oct. 30. Crews were able to clean up the contaminated area without any groundwater contamination.
"It is illegal to dump in national parks," Doorley says. "Particularly, it's illegal to dump anything with hazardous materials. It's unsafe for the environment as well as to the visitors. So, we would like to find out who did this so we can deal with it appropriately and so we're seeking the help of the public in case there's anything they have seen."
Doorley says the park has decided to ask for help in the investigation after it got a strong response to a call for information on a recent train vandalism case.


The number to contact the park service directly on the dumping is (440)546-5945. Summit County Crime Stoppers is also offering an award for tips that lead to an arrest or indictment in the incident. They can be reached at (330)434-COPS (2677). Tips can also be made online via this form.
---
---
---
Stories with Recent Comments