Loading...


Ohio



Tuesday, June 3, 2014




New wing being added to the national Air Force museum in Dayton




The $35 million project won't be open for another two years




Story by

TERRELL JOHNSON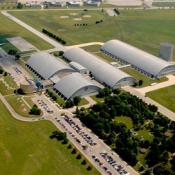 Construction on the new wing is expected to be done next summer
Courtesy of Dayton national Air Force museum
Download (WKSU Only)
In The Region:
Construction will begin this summer on a new wing at the national Air Force museum near Dayton. The official groundbreaking is this evening. Museum Director Jack Hudson says the new facility will improve the visitor experience.
"Some of those airplanes that are going to go in the new building are inside the main part of area B on base here. And we run a shuttle bus service over there from our main complex here, but it doesn't give the visitors a lot of time to look at the airplanes over there and presidential in research and development. So, they'll all be in the new building so visitors will have unimpeded access to those two galleries."

The wing will also hold the global reach and space galleries. Funding for the 35 million dollar project is being raised privately. Construction is expected to wrap up next summer with the new wing opening in 2016
---
---
Stories with Recent Comments