Democratic U.S. House Rep. Joyce Beatty of Columbus hops off a big purple bus, plastered with the slogan, "When Women Succeed, America Succeeds."

She takes the stage outside the Ohio Statehouse and explains the message that is being stressed on the bus tour from Seneca Falls, N.Y. to Chicago, Ill.
"My message is simple," Beatty says. "When women succeed, America succeeds. And women need equal pay for equal work, paid sick leave and access to affordable child care."
"When Women Succeed, America Succeeds"
But Beatty is not the only one on the bus. She introduces the former speaker of the U.S. House and the first woman ever to serve in that position.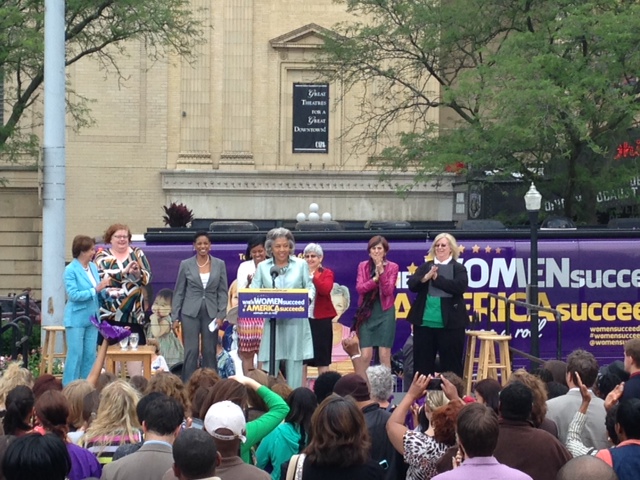 "Please join me in welcoming House Democratic Leader Nancy Pelosi," Beatty says.
Pelosi says she and other Democrats in Congress are trying to pass bills that would mandate women get equal pay for equal work, would give families of all income levels more access to high quality, affordable child care, and would raise the minimum wage. She notes many women are trying to raise families on jobs that earn the minimum wage.
"So let's make a decision to be the great country that we are and to do something about it," Pelosi says. "We know what the problem is. We have the legislative solutions. What is missing are the votes. We only need 17 votes to make this happen -- 17 votes."
And to get those votes, Pelosi says Ohio women need to go to the polls and elect Democratic candidates who will support these issues.
"This is a fact," Pelosi says. "When women succeed, America succeeds and it's the actual jolt that our economy needs so that we have an economy that is not only job creating but good job creating."

Pelosi also joined Congresswoman Marsha Fudge in Cleveland this afternoon.
Real issues or party rhetoric?
But Chris Schrimpf of the Ohio Republican Party says this is just Democratic rhetoric. He says what Democrats say does not match what the Democrats do.
"We saw what a Nancy Pelosi Congress does," Schrimpf says. "They ram through legislation like Obamacare without listening the opposition and the result is economic and health disaster for the American people."
The Republican speaker of the Ohio House, Bill Batchelder, also has little use for the message being spread on this bus tour.
"I think a lot of these things have been addressed," Batchelder says. "So I would suggest that I'm not excited to hear much from people in Washington in terms of handling the problems the country has.

"Obviously, the economy continues to decline, unemployment continues to be where it was a year and a half ago and so forth. I would think they might to attend to those things."
Ohio lawmakers want a committee
Batchelder says Republican lawmakers in the Ohio House are doing something about the women's issues being discussed on the bus. He cites a bill being considered to set up a council to study problems faced by women in the workplace.
But the Democrats say it is not a matter of identifying problems, it is a matter of fixing them. Pelosi says if Congress would pass legislation to make the workplace better for women, it would pay off.
"If you want to grow the U.S. economy, the best thing you can do is to engage women in the economic growth of our country," Pelosi says.
Pelosi and the Democrats say the only way to solve this problem is to get women who care about these problems to vote for people who will solve them. And she says that means voting in all elections, not just the presidential contests.