Loading...


Social Issues



Wednesday, June 4, 2014




No more marriage annulment fees for the Cleveland Catholic Diocese




The new policy also includes marriage dispensations and marriage permissions




Story by

TERRELL JOHNSON AND VIVIAN GOODMAN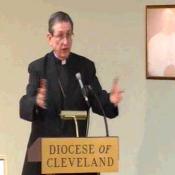 Bishop Lennon hopes his decision will encourage greater participation in the life of the church.
Courtesy of WKSU
Download (WKSU Only)
In The Region:
Bishop Richard Lennon says the Cleveland Catholic Diocese will no longer charge people for marriage annulments. The Rev. Gary Yanus, the diocese's judicial vicar, says Lennon is anxious to make the services of the church accessible to everybody. He says a couple's marital status, such as divorce and re-marriage, can be an obstacle.
"The church has always considered divorce to be the absolutely last thing that anybody should do when they're in a difficult marital situation. And I think in the past, there were stronger cultural norms that were in effect for a Catholic. You just did not divorce, you did not leave your spouse no matter what the reasons. I think those cultural norms have pretty much fallen by the waste side."
The church will not allow divorced Catholics who remarry to receive communion unless they get an annulment. The elimination of annulment fees – which are about $450 -- begins immediately.
---
---
Stories with Recent Comments