The worst news came three years ago on Gene Pritchard's 80th birthday. Gene and his wife had flown in from California for a celebration. "My father, Joan, my wife Gayle and I were all in the car heading towards the restaurant when my father pulled over on the side of the road to take a call from the doctor."
Gene's cancer had returned.
But that didn't stop their collaboration. Not right away. "We had written 16 songs together at that point."
Their first, a recession-era lament, came soon after Gene's advertising firm folded and Chris lost his recruiting job.
"The layoffs come
The plants close down
Till it's damn near killed this old town
But these tears can't wash away my dreams"
"The recession had just hit," says Chris, "I mean we were in a mess as a country, and "tears can't wash away my dreams." I thought we might have a hit on our hands. But the only airplay that it ever received was from your interview. I mean it was just so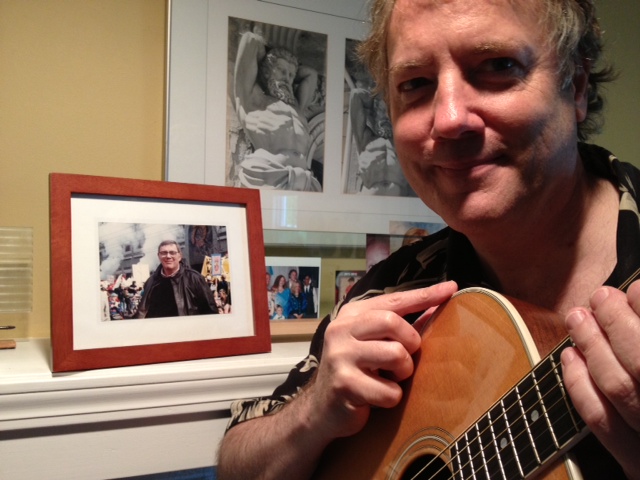 hard to get people to have an interest."
A true love that's lasted
But Gene wanted to keep working in a Santa Monica studio with producer Marty Rifkin, polishing the songs, and emailing lyrics for Chris to put to music. "The fun of doing this with Chris," says Gene, " is terrific."
Gene was having fun, too, with the woman he calls his first true love. He'd been divorced for years from Chris's mother when he fell for and married Joan.
Recently, she started forgetting things. "She got diagnosed as early stage Alzheimers and that of course has progressed up to the moment."
After the diagnosis, for a while Chris says his dad stopped sending him lyrics. "Not only going into his '80s in a different phase of life but also his own health challenges, the overlay of his wife's Alzheimers, there hasn't been a lot of songwriting going on."
'Lost in the Mist'
But recently Chris opened an email from his dad that sent him straight to his guitar. "Lyrics that especially moved me and it was called 'She left without leaving."
"They didn't just leave
They slipped away
They slowly moved on
Though they tried to stay
Oh God, we don't want to believe what we're seeing
But we know in our hearts they left without leaving"
Gene later changed the title to 'Lost in the Mist.' He calls it a caregiver's prayer. "We are lost in the mist. We do what we can. We search for answers, but at the end of the day we're dealing with a fight we're going to lose. I can't help but cry myself every time they play it because it just keys in on what we feel which is really there's very little hope."

Father's Day and every day
The father-son musical collaboration is back in full swing now. Gene's latest love song for Joan, is "Every Day is the Best Day."
"We touch the rainbow
We dance in rain
We sing in sunshine
God lifts our pain
Each sunrise surprises
Each sunset delights
We treasure love here
God fights out fights"
"There's just something about our life together. Joan and I are very much in love after 22 years. We love being together. And in spite of all these things that are not happy events in our life, I personally feel inordinately happy."
Meanwhile back in Bay Village, Chris is having better luck finding work. "Less income than I was making back in better days but we live a simple life and a good life here and we're satisfied that things are on the right track as the economy starts
to rebound."
And if he and his dad never hit the big time with their songs, that's OK.

"I love my father so deeply that anything that I can do with him like this to share an artistic creation with my father on an ongoing basis and things that are meaningful to him, meaningful to us as a family, it's a gift for me regardless of the outcome."


Other options:

MP3 Download
(3:16)
Other options:

MP3 Download
(3:59)
Other options:

MP3 Download
(3:31)