Loading...



From WKYC.COM / TV 3
Get the latest school closings and delays


Funding for WKSU is made possible in part through support from the following businesses and organizations.
---
For more information on how your company or organization can support WKSU, download the WKSU Media Kit.

(WKSU Media Kit


)
---

Courts and Crime



Tuesday, June 10, 2014




JobsOhio gets the Ohio Supreme Court's OK to keep operating




But the 5-2 decision leaves the door open to someone else challenging its constitutionality


by WKSU's M.L. SCHULTZE


Web Editor
M.L. Schultze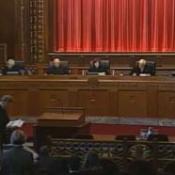 The Ohio Supreme Court says challengers to JobsOhio don't have standing.
Courtesy of File photo
Download (WKSU Only)
In The Region:
The Ohio Supreme Court has ruled that an advocacy group and two state lawmakers challenging the constitutionality of JobsOhio have no standing to do so. This morning's ruling effectively means the quasi-private economic development corporation formed by the state can keep operating. The high court decision was 5-2, and came down against ProgressOhio, Sen. Michael Skindell and former House member Dennis Murray. It says none of them had a personal stake in the outcome of the case, nor do they have legal standing under the "public-right doctrine" because of the way their lawsuit was filed. In writing the opinion, Justice Judith French said the court is not eliminating everyone from challenging the constitutionality of JobsOhio. And she says that for someone with the right legal standing, "The courthouse doors remain open."
---
---