Loading...


Government and Politics



Tuesday, June 10, 2014




FirstEnergy charges industrial and commercial customer "polar vortex" fee




PUCO is investigating use of these "pass-through" fees




by WKSU's LYNDSEY SCHLEY



Reporter
Lyndsey Schley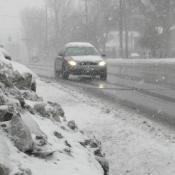 FirstEnergy says Ohio's harsh winter has led them to charge pass-through fees.
Courtesy of FILE PHOTO
Download (WKSU Only)
In The Region:
FirstEnergy Solutions will be charging some commercial and industrial customers a "polar vortex" fee. The company previously announced a similar fee for residential customers, but retracted it. Spokeswoman Diane Francis says most of FirstEnergy's fixed-rate contracts allow for pass-through fees, but they have not usually been necessary. She says the high-energy consumption during this year's harsh winter changed that.
"What happened in January with the weather events and other events that took place in the electric marketplace were really unprecedented and that led us to have to do this unprecedented pass through," Francis says.


Public Utilities Commission of Ohio spokesman Matt Shilling says the state agency is investigating the industry's use of the fees.

LISTEN: PUCO position

Other options:

Windows Media
/

MP3 Download
(0:21)
"The commission is looking into the marketing practices of fixed-rate contracts that include these so-called 'pass-through clauses' that suppliers can pass on extra costs and is that fair, misleading or deceptive to market those as fixed-rate contracts," Shilling says.
---
---
---
Stories with Recent Comments