Loading...


Courts and Crime



Wednesday, June 11, 2014




Giorgio testifies Suarez knew political contributions were illegal




The former company CFO says he followed the North Canton businessman's orders out of misguided loyalty


by WKSU's KEVIN NIEDERMIER


Reporter
Kevin Niedermier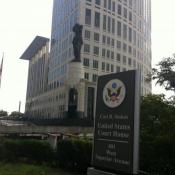 The trial of Ben Suarez and Suarez Corporation Industries is in its second week in the Cleveland's federal courthouse.
Courtesy of KEVIN NIEDERMIER
Download (WKSU Only)
In The Region:
Former Suarez Corporation Industries CFO Michael Giorgio is scheduled to be back on the stand Thursday morning as he continues testifying against his former boss Ben Suarez.

Both men and the company are charged with collecting illegal campaign contributions from company employees for Congressman Jim Renacci and Ohio Treasurer Josh Mandel.

WKSU's Kevin Niedermier has this report on Wednesday's proceedings in Cleveland federal court.
The defense will continue its cross examination of Giorgio who plead guilty month in a deal with prosecutors.

Suarez's lawyers questioned Giorgio about maintaining his innocence after the FBI began investigating the alleged scheme in 2011, then suddenly pleading guilty just a few weeks ago. Earlier in the day, under direct examination by the prosecution, Giorgio told the jury he pleaded guilty because it was the right thing to do. The move could greatly reduce his prison sentence.

Giorgio testified that he knew the scheme was illegal, but out of misguided loyalty, the long-time employee says he did what Suarez ordered him to do. Prosecutors say Giorgio and Suarez solicited $200,000 in campaign donations from employees and then reimbursed them with company money.

Suarez allegedly wanted to help Renacci and Mandel in exchange for their help quelling a pending California lawsuit against the company. Giorgio told the jury that Suarez ordered him to re-pay the employees with bonuses hidden in expense accounts. But when the FBI investigation began, he says Suarez told him to change the reimbursements into advances on profit sharing which had to be re-paid to the company. Giorgio says Saurez had never authorized such advances before.
---
---
---
Stories with Recent Comments