Loading...


Courts and Crime



Thursday, June 12, 2014




Arbitrator orders Cleveland to gives cops their old jobs back




City plans to appeal the reinstatement decision


by WKSU's M.L. SCHULTZE


Web Editor
M.L. Schultze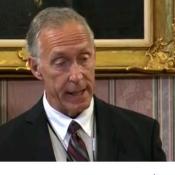 Michael McGrath was police chief at the time of the discipline. He's now Cleveland's safety director.
Courtesy of File photo
Download (WKSU Only)
In The Region:
Correction: All six officers charged criminally were arraigned today. Five are facing misdemeanor charges, one felonies.

An arbitrator has ordered Cleveland to reinstate three police supervisors who were disciplined for their roles in a massive chase in November 2012. The city had fired Sgt. Michael Donegan and demoted a lieutenant and captain a year ago. Donegan has been ordered back on the force immediately, first as a patrol officer, then after a year, as sergeant. He'll get back pay. The other two officers, Paul Wilson and Ulrich Zouhar, will be returned to their previous rank of captain and lieutenant in July. Neither will get back pay. Brian Betley is head of the Fraternal Order of Police, which represents the officers. He says the city's discipline went too far.
"Most members who are terminated either committed a felony act or abused alcohol or drugs or some violations of moral turpitude. With Sgt Donegan, simply the city was insisting he didn't do enough as a sergeant. Typcially discipline that would be issued for that would be retraining, suspension days, stuff of that nature.
The night ended when police opened fire on the car they were chasing, killing Timothy Russell and Malissa Williams. Six officers have been charged criminally in that, and they're to be arraigned today.
---
---
---
Stories with Recent Comments