Loading...


Courts and Crime



Friday, June 13, 2014




Six Cleveland police officers arraigned in 2012 car chase and shooting




Patrolman Michael Brelo and five others plead not guilty; will appear next Friday for a hearing


by WKSU's KABIR BHATIA


Reporter
Kabir Bhatia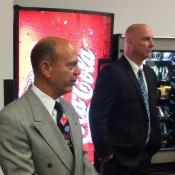 CPPA attorney Pat D'Angelo (left) and union chief Jeff Follmer say the six officers arraigned Friday just want their day in court.
Courtesy of K. Bhatia
Download (WKSU Only)
In The Region:
Michael Brelo and five other Cleveland police officers pleaded not guilty today to charges stemming from a 2012 car chase that ended with 137 gunshots and the deaths of two unarmed people.

Brelo faces two counts of manslaughter in the deaths of driver Timothy Russell and passenger Malissa Williams. He's accused of jumping on the hood of Russell's car and firing at least 15 rounds that prosecutors describe as fatal.

But Patrolman's Association attorney Pat D'Angelo says the officers acted appropriately.
"Simple men and women that went to work that night on November 24, 2012 and tried to do the right thing. They did not get up and say,
'We're going to beat up on someone. We want to kill someone.' They tried to protect and serve. And their lives were on the line and they acted the best that they could."

Bond was set at $10,000 for patrolman Brelo, while the other five (supervisors Sgts. Randolph Dailey, Patricia Coleman, Jason Edens, Michael Donegan and Lt. Paul Wilson) got $1,000 each on misdemeanor charges of dereliction of duty.

Separately, an arbitrator Thursday ordered that Donegan, Wilson and Capt. Ulrich Zouhar, disciplined for their roles in the chase, be reinstated. Donegan had been fired and the other two demoted. Brian Betley heads the officers' union, the Fraternal Order of Police. He says the ruling makes him confident in the not-guilty pleas.

"The arbitrator… his decisions were based on the confines of the square box of: testimony by witnesses, evidence that was produced [and] briefs by both attorneys – the city and the FOP. He assured both attorneys that he wasn't going to be influenced by outside media sources or [by] how big this event has become."

Of the officers facing criminal charges, all but Brelo were disciplined by the department last year. Three of those cases are still awaiting an arbitrator's ruling. The others disciplined last year are Sgt. Mathew Putnam, Sgt. Brian Chetnick, Sgt. Brian Lockwood, Sgt. Mark Bickerstaff, Sgt. Matthew Gallagher and Sgt. Richard Martinez.

About 150 Cleveland police officers showed up to support Michael Brelo and five other officers who were indicted last month. The six say they were acting within the bounds of the law on November 24, 2012, when driver Timothy Russell's car reportedly backfired. The police thought it was a gun, and a 22-minute chase was on.

Police union chief Jeff Follmer says Brelo is holding up as well as can be expected.

"It's always [a] concern when you're facing felony charges. He's very stressed out but he's ready to go forward. There is a story that needs to be told. He believes he's not guilty and he went out to do his job that night. And he's quite confident that it's going to be a 'not guilty.'"

After the arraignment, attorney D'Angelo said the officers have been treated as political footballs.

"There are many people in our community that profess to be civil rights activists. Which means that they respect the law and the Constitutional process of presumption of innocence, burden of proof, not rushing to judgment, not having kangaroo courts and not having high-tech lynchings."

Cuyahoga County Prosecutor Tim McGinty has said Timothy Russell and Malissa Williams were no longer a threat to the officers by the time Brelo fired the fatal shots.

When the indictments were announced last month, D'Angelo said the officers acted heroically, with the only tragedy being that Timothy Russell and Malissa Williams did not come to a stop during the chase. An investigation by Attorney General Mike DeWine said "systemic failures" led to the chase spiraling out of control and involving up to 100 officers.
---
---
---
Stories with Recent Comments