Loading...


Government and Politics



Monday, June 16, 2014




Kasich signs sprawling midterm budget bill




The bill adjusts tax rates for businesses, wealthy and low-income Ohioans, and includes a provision limiting wind power in Ohio




by WKSU's STATEHOUSE BUREAU CHIEF KAREN KASLER



Reporter
Karen Kasler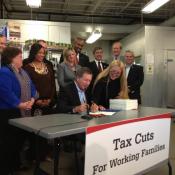 Gov. John Kasich signs the wide ranging Mid-Biennium Budget Review that adjusts Ohio's two-year budget. Kasich chose a food-bank as the setting for the ceremony to emphasize tax changes that he says will benefit low-income Ohioans.
Courtesy of Karen Kasler
Download (WKSU Only)
In The Region:
Though the two year budget is at the halfway point, there are some changes ahead, thanks to a bill signed today by Gov. John Kasich. The budget update bill includes an acceleration of the personal income tax cut in the regular two-year budget, as well as another tax cut for small businesses. But it also includes a doubling of Ohio's earned-income tax credit to 10 percent for low-income taxpayers, and an increase in the personal income-tax exemptions for people making under $80,000 a year. Kasich says even with the changes, he still recommends comprehensive tax reform.
The budget bill also puts lawmakers in charge of $300 million set aside for unexpected Medicaid expenses, and specifies how certain mental-health and addiction treatment funds will be spent.
Democratic gubernatorial challenger Ed FitzGerald said the bill does little to restore cuts to local governments and schools.
---
---
---
Stories with Recent Comments