Loading...


Sports



Wednesday, June 18, 2014




Could LeBron James' hunt for more rings lead him back home?




Commentator Terry Pluto says a return to Cleveland is unlikely for an icon looking to cement his legacy


by WKSU's AMANDA RABINOWITZ


Morning Edition Host
Amanda Rabinowitz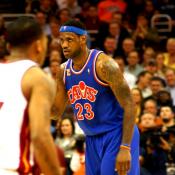 ESPN reports LeBron James said he will not make any decisions, including exercising the early-termination clause of his contract with the Heat, about his future until after he vacations with his family.
Courtesy of Brandon Davis
Download (WKSU Only)
Four years after LeBron James left the Cavs for the Miami Heat, the Akron native faces another big decision in this NBA off-season. After the star-studded Heat failed to win a third consecutive title, speculation is swirling that James could leave the team…and perhaps return to Cleveland. WKSU commentator Terry Pluto talks about why he thinks that scenario is unlikely.
Beginning in July, LeBron James can opt out, or exercise the early-termination clause, for next season -- which would make him a free agent and set up a another decision. The last time, the infamous "Decision" in 2010, resulted in James teaming up with Dwyane Wade and Chris Bosh in Miami, which has produced two NBA titles and four consecutive trips to the NBA Finals.

Time winding down to match -- or beat -- the greats
Pluto says James' big focus is getting his name up there with the greats and that will weigh heavily on what he decides to do next.
"He has two championships," Pluto says. "Michael Jordan had six. Kobe Bryant had five. I think he wants to at least get into that neighborhood so he needs to choose wisely."

Pluto says at 29, James' career is more than half over. He says because James is more of an all-around athlete and not just a "big man" like the San Antonio Spurs' Tim Duncan, he likely won't play until he's 39.

"He has to figure he has four or five good years, possibly six, taking him to 35. So you have to decide 'Where am I going to go where I have the best chance at titles?'"

Could it be Cleveland?
Pluto says there is an attraction for James to come back to the Cavaliers, but with the team's head coaching position still up in the air, it is hard to say whether the team has what it takes to attract the superstar.

"They're still looking for a coach, and I think part of the reason is they're waiting to interview this guy David Blatt who is this premiere European coach," Pluto says. "[He's] coached the last 20 years a lot at Tel Aviv and also the Russian national team and some others. He's become a guy several teams are looking at and he just became available now."

But whether Blatt or a coach with a few jobs under his belt like Alvin Gentry is enough to appeal to James is uncertain.

Pluto says James also likes the guessing game. "It's our modern Waiting for Godot," Pluto says. "Wait for LeBron, what's he going to do, all the speculation and it fits into him being this kind of iconic figure."

Lessons from the Spurs
James and the star-studded Miami Heat were crushed 4-1 in the NBA Finals to the San Antonio Spurs. Pluto says there's lessons for the Cavs in that series. He says the Spurs' main focus is stability. They tend to select players from foreign markets because "they're less spoiled." The Spurs also convinced their "big three" [Tim Duncan, Tony Parker and Manu Ginobili] to take less money to make room in the salary cap to find good players around them. The Spurs have also had the same coaching staff in place for more than a decade.

Cavs need a coach soon
As far as the Cavs' coaching search, Pluto says they'll need to have one in place within the next week. The Cavs have the No. 1 pick in the NBA draft on June 26.

"You'd better have a coach in place by then because you have to make sure that your coach is not just on the same page but on the same syllable with you on the pick," Pluto says. "You can make a strong case for any of [the players - Andrew Wiggins and Joel Embiid of Kansas and Jabari Parker of Duke] depending upon you're looking for, so the coach and the general manager have to be together on this."?



Other options:

MP3 Download
(7:35)
---
---
---