Loading...


Government and Politics



Tuesday, June 17, 2014




Cleveland mayor pushing for tougher city gun laws




Jackson wants gun registry for those convicted of gun offenses, and a prohibition on transferring guns to known felons


by WKSU's KEVIN NIEDERMIER


Reporter
Kevin Niedermier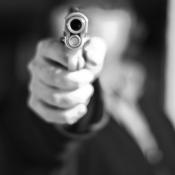 Cleveland's mayor hopes new gun laws will reduce crime.
Courtesy of Peter Anderson
Download (WKSU Only)
In The Region:
Cleveland Mayor Frank Jackson hopes tougher city gun laws will help reduce violence. Today he announced plans to enact 7 new ordinances.

They include requiring anyone convicted of a gun offense to register with police, prohibiting anyone from giving a known felon a firearm, and reporting lost or stolen guns within 48 hours.

Jackson says the proposals will work in combination existing city, state and federal gun laws. Asked if the proposed laws would have stopped a Cleveland felon charged last week with fatally shooting his two year old son, Jackson said, they might have.
"Our ability to be able to know where people get guns, who's selling them guns, and making that a more risky proposition. Now, there's nothing guaranteed in like, but we intend to make it more difficult for people who are not supposed to have guns to be held accountable. And with that we believe we can help prevent things like what happened last week."
The city's law department is still drafting the legislation which is expected to be presented next month to city council. Council's safety committee chairman, Matt Zone, says council is expected to approve the tougher gun laws.
---
---
---
Stories with Recent Comments