Loading...


Education



Tuesday, June 17, 2014




Nearly 90 percent of Ohio students pass third grade reading test




Passing scores up 25 percent since last year




by WKSU's STATEHOUSE BUREAU CHIEF KAREN KASLER



Reporter
Karen Kasler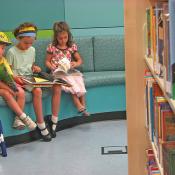 Ohio's children are reading significantly better than last year, according to the third grade guarantee reading test.
Courtesy of San Jose Library
Download (WKSU Only)
In The Region:
Nearly 90 percent of 110,000 Ohio third graders have achieved the score they needed to move on to the fourth grade. 88 percent of the kids who took the third-grade reading guarantee test passed it, compared to a little over 63 percent who passed the test last fall. John Charlton with the state department of education says that test in October was a wake-up call for many districts.
Kids who failed the test have two more opportunities to retake it this summer, and they can still be promoted during the school year if they get the required score.

Overall, charter school students performed worse than the third graders in traditional public school did. The worst performing public district in the state is Warrensville Heights in Cuyahoga County, with a little over 61 percent passing the test.

The lowest score among the big eight urban districts was the 63 percent logged in the Cleveland Municipal Schools. Cincinnati scored the best of the big eight, with nearly 82 percent of kids passing. Akron 79 had a percent pass rate, while Canton's pass rate was 75 percent.
---
---
---
Stories with Recent Comments