Loading...


Arts and Entertainment



Wednesday, June 18, 2014




The Black Keys release The Akron Burger




New $13 item is part of a series of celebrity fundraising burgers through L.A.-based Umami Burger


by WKSU's KABIR BHATIA


Reporter
Kabir Bhatia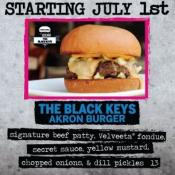 The Umami Burger's ingredients seem to echo the Swenson's Galley Boy, which has been named best burger in the country in several surveys over the years
Courtesy of Umami Burger
Download (WKSU Only)
In The Region:
The Black Keys are teaming with a gourmet burger business to help fund a hometown charity. An as WKSU's Kabir Bhatia reports, the Akron band's new offering is an homage to a Rubber City favorite.

The Black Keys have partnered with the LA-based Umami Burger chain to create "The Akron Burger." One dollar from each $13 burger will go to the Alfred McMoore Memorial Endowment at the Akron Community Foundation, named for the man who dubbed the duo "The Black Keys." The fund benefits Community Support Services, a nonprofit which helps people with mental illness. McMoore was a client there until his death in 2009.

The band suggested ingredients reminiscent of a legendary Akron burger, with a different kind of cheese. But Tina Boyce of the Akron Community Foundation says it is not a copy of the Swenson's Galley Boy.

"I don't know that Swenson's uses Velveeta, but of course that's a secret that they have. I think basically what they were trying to do was to pay homage to the Keys' hometown. And we know how popular Swenson's is with the band. And this comes with their own spin on it."

The Akron Burger is available starting July 1. And Umami Burger's only locations outside of California are in Chicago, New York, Las Vegas and Miami.

Ingredients include Velveeta fondue, mustard, onion, pickles and a secret sauce, and it's the latest in a line of celebrity fundraiser burgers. Former Guns 'n Roses guitarist Slash raised $14,000 with his signature burger earlier this year.
---
---
---
Stories with Recent Comments