Loading...


Economy and Business



Thursday, June 19, 2014




Managers of the new Timken Steel Corporation talk to investors




The company will be separating from The Timken Company soon and its management team hosted an investors meeting in Canton.


by WKSU's TIM RUDELL


Reporter
Tim Rudell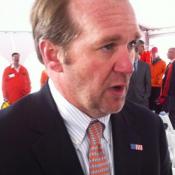 Ward J. "Tim" Timken Jr. at the ground breaking for expansion of The Timken Company Faircrest Plant in 2012
Courtesy of WKSU
Download (WKSU Only)
In The Region:
Timken Steel's new CEO, Ward J. "Tim" Timken, spoke of the soon-to-be stand-alone company's strengths and strategy.

He said it will focus on special bar quality steel and seamless tubing--involving high-end alloy steel for demanding applications--for smaller, but more profitable niches within the overall market.

And, he said: the new company will use its industry-recognized base to underpin its future
"Most of our growth will come from expanding around our core. Now, with that said, we also seek growth opportunities in adjacent expansion. We'll continue to evaluate acquisitions that grow our base knowledge, but that also take us into new areas. Let's be clear…we intend to grow."

Stock distribution for the new company will begin at the end of the month; with one share of Timken Steel Corporation common stock for every two shares of The Timken Company's common stock--held by Timken shareholders of record as of June 23, 2014.
---
---
---
Stories with Recent Comments