Loading...


Courts and Crime



Monday, June 23, 2014




Soldiers' and Sailors' Monument is vandalized




But it also may be a federal felony;


by WKSU's KABIR BHATIA


Reporter
Kabir Bhatia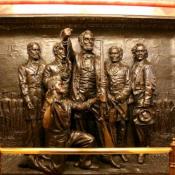 The monument was dedicated in 1894 and refurbished in 2009
Courtesy of M.L. Schultze
Download (WKSU Only)
In The Region:
Cleveland police are looking for up to six people who vandalized the Soldiers' and Sailors' Monument on Public Square Sunday. Surveillance video shows between 5 or 6 people breaking off a huge chunk of the monument around 2:40 a.m. The monument's executive director, Tim Daley, tells Channel 3 news that the repairs won't be cheap.
"We spent $2 million in 2009 to restore this to its original Victorian splendor. And to find the disrespect that is being done to this, it really is disheartening. Especially since one of my own ancestors' names is on this wall."

A bronze expert will assess the damage to the broken piece today. The Soldiers' and Sailors' Monument was dedicated in 1894 to about nine-thousand men from Cuyahoga County who served in the Civil War.

Vandalizing a war memorial is a felony. Anyone with information on the crime should contact the Cuyahoga County Sheriff.
---
---
---
Stories with Recent Comments