Cleveland school board to vote on a final construction plan
The board of the state's second-largest school district is getting its first look at finalized construction plans at a special meeting tonight, just 24 hours before it will vote on them.

The Cleveland Metropolitan school board is to vote on a plan that's expected to include 19 new schools and the renovation and closure of others. It would realign school boundaries and has been the focus of a dozen community meetings over the past month.

The construction would be paid for with the proceeds from a bond issue that voters are likely to be asked to renew in November. The board must vote on the plan by July 7 to meet the deadline for the ballot. The district's plans were originally supposed to have been released by March, and some board members and residents have complained that they haven't had time to fully digest the plan.

Debate over gubernatorial debates begins
Democratic gubernatorial candidate Ed FitzGerald has accepted six invitations for debates and forums in five cities -- Cleveland, Cincinnati, Columbus (twice), Zanesville, and Sandusky. He's also pushing for five more, in Youngstown, Dayton, Lima, Toledo and Marietta.

It's unlikely that incumbent Gov. John Kasich will agree to the extended list. Polls have repeatedly shown that many voters are unfamiliar with FitzGerald, who is the Cuyahoga County executive.

Evergreen gets another look from the high court
The U.S. Supreme Court has sent the criminal case against a man who rehabbed, built, financed and sold hundreds of homes in Summit and surrounding counties back to the Ohio Supreme Court.

David Willan ran Evergreen Homes, which specialized in subprime mortgages. The company went bankrupt, and investors and homeowners claimed they were swindled. He was convicted of scores of charges, including theft. Most were overturned on appeal. But he's serving 16 years in prison, including a mandatory 10 years on a racketeering charge. His lawyers note the mandatory sentencing law changed while he was appealing his sentence.

Brookings: Foreign Investment in NE Ohio
A new study by the Brookings Institute shows Northeast Ohio's manufacturing fell during the same 20 years that foreign investment in the region dropped significantly.

In 2011, the report says Greater Cleveland was 34th in the nation -- and Akron 64th -- when it came to ranking the number of foreign-companies' jobs in the top 100 metro areas. Twenty years earlier, Cleveland had been 14th, and Akron 56th.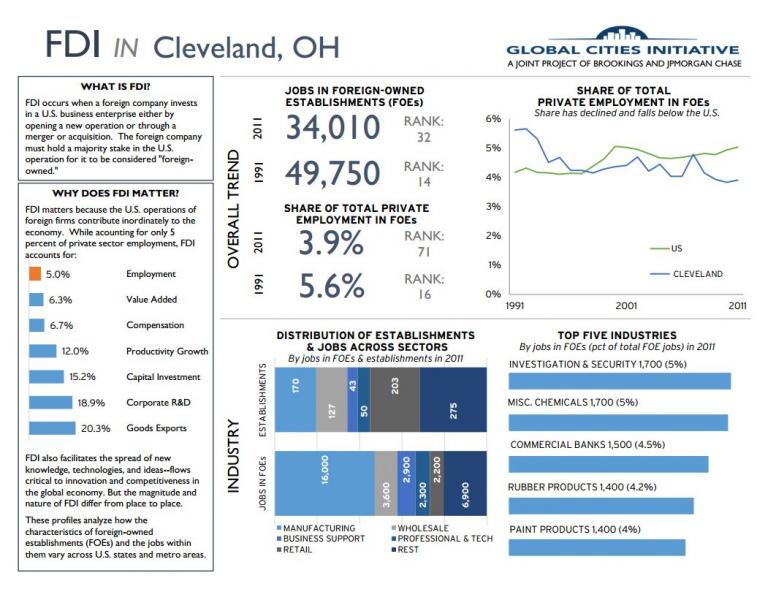 Campaigning for the highway trust fund
Contractors and union leaders are taking a bus tour through Cleveland and then onto Michigan today to highlight construction project shat could be suspended – or never begin – if the highway bill and gas tax isn't renewed.

About a quarter of Ohio's bridges are considered structurally deficient, and the National Highway Trust Fund is expected to run out of money this summer if Congress does not renew funding.

U.S. Sen. Sherrod Brown is also in Cleveland today pushing for the renewal.