Loading...


Ohio



Monday, June 23, 2014




Ohio homeowners, farmers pick up an increasing share of the tax tab




Nearly three-quarters of the Ohio property tax pool now comes from residential, agricultural properties




by WKSU's STATEHOUSE CORRESPONDENT JO INGLES



Reporter
Jo Ingles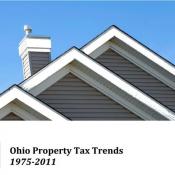 The Education Tax Policy Institute study says the shift from business to residential hurts levies' chances.
Courtesy of ETPI
Download (WKSU Only)
In The Region:
A new study shows Ohio's tax policy over the last 35 years has shifted the largest share of property taxes overwhelmingly from business and utilities to homeowners. The study for the Education Tax Policy Institute shows owners of residential and agricultural property paid 46 percent of the state's pool of property taxes in 1975. In 2011, they accounted for nearly three quarters. Damon Asbury is with the Ohio School Boards Association, which co-sponsored the study.
"To be fair, we understand there have been other changes that have affected businesses. But by and large those former businesses taxes that supported the local school districts, property taxes and tangible personal property tax have all but went away."
Asbury says this shift from businesses to homeowners will make it more difficult for school districts to pass levies.
---
---
---
Stories with Recent Comments