Loading...


Government and Politics



Tuesday, June 24, 2014




Ohio Gov. Kasich says he's unconcerned about subpoena in criminal case




Businessman Ben Suarez has subpoenaed the governor to testify in his political contribution case




by WKSU's STATEHOUSE BUREAU CHIEF KAREN KASLER



Reporter
Karen Kasler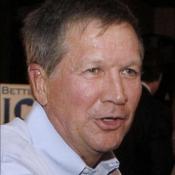 Gov. Kasich says he has no relationship to the Suarez case.
Courtesy of File photo
Download (WKSU Only)
In The Region:
Gov. John Kasich says he knows nothing about the criminal case against North Canton telemarketing millionaire Ben Suarez, and he's not sure why Suarez' defense team is trying to force him to testify. Suarez is accused of funneling $200,000 in illegal campaign contributions to Ohio Treasurer Josh Mandel and Congressman Jim Renacci. Kasich told reporters that he may have met with Suarez long ago, but he has nothing to do with the case.
"I'm not involved in this. This is probably some sort of a fishing expedition, I don't know what it is. You'll have to read the information. I'm really not involved, engaged or concerned in the least."
Suarez wanted Ohio officials to intervene in a multi-million-dollar complaint against his company in California. His donations to Kasich are not part of the criminal case.
The Suarez team says Kasich's testimony would be persuasive, and that it is proper for Suarez, as a constituent of the governor's, to ask him to testify.
---
---
---
Stories with Recent Comments