Loading...



From WKYC.COM / TV 3
Get the latest school closings and delays


Funding for WKSU is made possible in part through support from the following businesses and organizations.
---
For more information on how your company or organization can support WKSU, download the WKSU Media Kit.

(WKSU Media Kit


)
---

Health and Medicine



Tuesday, June 24, 2014




State advises hospitals on what to consider for measles cases




Health officials are making sure that hospital employees, volunteers and interns are vaccinated




Story by

TERRELL JOHNSON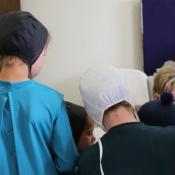 Amish people at a local clinic getting vaccination for measles.
Courtesy of Sarah Jane Tribble WCPN
Download (WKSU Only)
In The Region:
The Ohio Department of Health sent out new guidelines to answer questions hospitals have about vaccinations and immunity. Bryan Fowler, the chief of vaccines for the Health Department, says many hospital officials were unsure how to determine if someone is considered protected from measles.
"Almost everyone born before 1957 had measles, so we just wanted to clarify the specific situations so hospitals knew exactly where more people stood in terms of their vaccination or immune status for measles."
As of yesterday (Monday), 348 cases of measles were reported in nine Ohio counties, the largest number in 20 years.
Page Options

Print this page

E-Mail this page / Send mp3

Share on Facebook
---
---
Stories with Recent Comments