Loading...


Government and Politics



Wednesday, June 25, 2014




Ohio unemployment claimants hit a snag: What's an 'L' and what's a '1'?




Problems differentiating passwords slow down new requirements for people getting unemployment




by WKSU's STATEHOUSE CORRESPONDENT JO INGLES



Reporter
Jo Ingles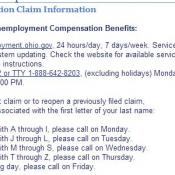 Home screen for unemployment claims with the Ohio Department of Job and Family Services.
Courtesy of State of Ohio
Download (WKSU Only)
In The Region:
Computer complications are forcing Ohio to delay implementing some of its new rules for people to collect unemployment. Angela Terez of the Ohio Department of Job and Family Services says the rules require claimants to go online and register with a job-search engine set up by the state. But she says they are having problems doing that right now.
"The website is working great. But some people are having trouble distinguishing some of the characters in their passwords, for example, they were confusing the l's and the 1's and the 0's and the o's. And so, naturally, they called a customer service representative for help resetting their password but the security was so good that the representatives were not able to access the passwords to change them."
Terez says the problem has been corrected but she's unsure when the new rules will be reinstated.
---
---
---
Stories with Recent Comments