Loading...



From WKYC.COM / TV 3
Get the latest school closings and delays


Funding for WKSU is made possible in part through support from the following businesses and organizations.
---
For more information on how your company or organization can support WKSU, download the WKSU Media Kit.

(WKSU Media Kit


)
---

Courts and Crime



Wednesday, June 25, 2014




Indians' facing potential $9 billion lawsuit




The team name and Chief Wahoo logo are deemed offensive and racist




Story by

TERRELL JOHNSON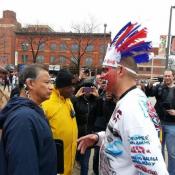 Robert Roche (right) confronts a fan dressed up as an Indian.
Courtesy of Twitter
Download (WKSU Only)
In The Region:
The Cleveland Indians could be facing a nine billion dollar lawsuit next month over its team name and logo. Robert Roche, leader of "People Not Mascots" and director of the American Indian Education Center, says other attempts to resolve the issue have been ignored by the team and met by well-publicized hostility by some fans.
"Somehow my picture went viral and it really raised a lot of interest. Myself standing in front of this individual that had red paint on. That alone is insulting because we use paint for ceremonies, we don't use it for fun and games. And he told me that 60 percent of the fans do not want the name and logo changed and I said 'Well why don't you ask an Indian?'"

Roche says if his group wins the suit, he will use the money to fund his center, which is struggling to provide services to the community.
Page Options

Print this page

E-Mail this page / Send mp3

Share on Facebook
---
---
Stories with Recent Comments