Loading...


Ohio



Friday, June 27, 2014




Wiggins credits his parents for his athletic ability and mental acumen




Wiggins' parents were both athletes who graduated from Florida State University




Story by

TERRELL JOHNSON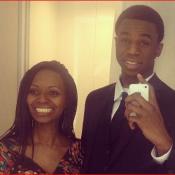 Wiggins and his mom Marita-Payne Wiggins before the Naismith awards.
Courtesy of Andrew Wiggins, Instagram
Download (WKSU Only)
In The Region:
This year's number one overall pick in the NBA draft comes from a family of athletes. Mitchell Wiggins, the father of Cavs selection Andrew Wiggins, played in the NBA for about six years. His mother Marita Payne-Wiggins won two silver medals in the 1984 summer Olympics. At today's press conference in Cleveland, Wiggins was asked what he inherited from her.
"I got a lot of different things from my mother. From a mental point of view, I got a lot of toughness, being aware of my surroundings and knowing where I'm at."
Wiggins also credits his mom for a lot of his physical attributes, such as his speed and jumping ability.
And he joked that he has his mother's metabolism, saying that he can eat pretty much anything and stay in good shape. Wiggins is 6'8, 200 lbs.
---
---
Stories with Recent Comments