Loading...


Courts and Crime



Friday, June 27, 2014




Ben Suarez trial will continue into next week




Jury in North Canton telemarketer case leaves Friday without decision


by WKSU's KABIR BHATIA


Reporter
Kabir Bhatia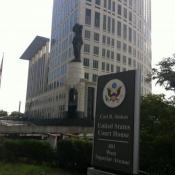 The federal courthouse in Cleveland where Canton businessman Ben Suarez is defending himself and his company against illegal campaign contribution charges.
Courtesy of Kevin Niedermier
Download (WKSU Only)
In The Region:
Jury deliberations will continue Monday in the campaign finance case against North Canton telemarketer Benjamin Suarez. WKSU's Kabir Bhatia is there today.
The 12 members of the jury went home at 4 PM on the nose, after spending the entire day discussing the eight remaining charges against Suarez. He's accused of steering $200,000 in donations through straw donors to the 2012 re-election campaign of Congressman Jim Renacci, and the failed Senate campaign of Treasurer Josh Mandel. Both of them have returned those contributions.

Closing arguments in the 4-week trial took place Thursday, and the defense rested before federal Judge Patricia Gaughan could rule on whether Renacci, Mandel and other subpoenaed Republicans should have to testify. The jury heard instructions Thursday night.

The 72-year-old Suarez faces up to 12 years in prison and a $1 million fine. He allegedly made the donations in exchange for help with a California lawsuit against his company, SCI. His attorneys say he merely made a mistake and did not know that reimbursing employees for political donations is against the law. The company is also fighting criminal charges.
---
---
---
Stories with Recent Comments