Loading...


Ohio



Friday, June 27, 2014




DNC chairwoman isn't tipping her hand on convention favorites




Wasserman Schultz says the decision could not come until early next year; Cleveland and Columbus are in the running




by WKSU's STATEHOUSE CORRESPONDENT JO INGLES



Reporter
Jo Ingles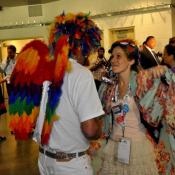 Charlotte hosted the 2012 Democratic convention. Six cities, including Cleveland and Columbus, are in the running FOR 2016.
Courtesy of MARK URYCKI
Download (WKSU Only)
In The Region:
The chairwoman of the Democratic National Committee isn't saying much about where the party might hold its 2016 presidential convention. Both Cleveland and Columbus are in the running. Cleveland is also one of two finalists for the Republican National Convention. Debbie Wasserman Schultz outlined the process for Democrats.
"We are at an earlier stage in the process than the Republicans are. Having heard the presentations from the cities on Monday, now our technical advisers can go out and do the site visits. And they'll come back. That will be done July through early next year. And I will be making a decision on the host city later this year or early next year.
Republicans hope to make their pick late this summer or early in the fall.
---
---
---
Stories with Recent Comments