Loading...


Health and Medicine



Monday, June 30, 2014




Kasich says Ohio's Medicaid expansion is paying off for drug treatment




Governor says development show he was right to go to the Controlling Board




by WKSU's STATEHOUSE CORRESPONDENT JO INGLES



Reporter
Jo Ingles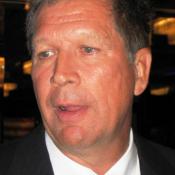 Gov. Kasich says his Medicaid expansion is paying big dividends in drug treatment.
Courtesy of File Photo
Download (WKSU Only)
In The Region:
Ohio Gov. John Kasich says his push to expand Medicaid is paying off. He defended his decision in an address to judges, law enforcement officials and drug-treatment program leaders this afternoon in Columbus.
"To me it's a lay down hand. If you can bring millions of dollars back to treat the mentally ill, the drug addicted and the working poor, what's the question, you know? And so we were able to get that through which has brought us absolutely critical resources to the state."
When Kasich couldn't get approval from the Ohio Legislature to expand Medicaid last year, he pushed it through a little known agency called the Controlling Board. Kasich says it makes no sense to lock up drug-addicted Ohioans for a year when they could be rehabilitated with treatment programs.
---
---
---
Stories with Recent Comments