Two Republican representatives — longtime lawmaker Ron Amstutz of Wooster and second-term legislator Cliff Rosenberger of southwest Ohio — have been campaigning within the GOP caucus to become the next speaker of the House.
Rosenberger No. 1; Amstutz No. 2
Now the veteran Amstutz says he's throwing his support behind Rosenberger — which gives Rosenberger the support of more than 60 percent of the expected caucus. With that move, Amstutz will be a candidate for speaker pro tempore, the second top spot.
"We're a team that is now building momentum and picking up additional members who are wanting to join us."
Rosenberger says the coalition came together in the interest of party unity.
"What we wanted to be able to do was to pull these teams together so we could focus on the general election races coming up this November so we can have a strong majority and continue to deliver on good policies for our state."
After serving in the General Assembly for nearly four decades, House Speaker Bill Batchelder of Medina will leave office at the end of the year due to term limits.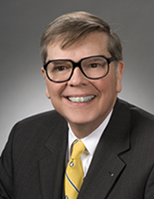 The two frontrunners vying to be speaker have different backgrounds. Amstutz, who recently turned 63, has spent 30 years in the Ohio House and Senate and chairs the House Finance and Appropriations Committee.
Rosenberger, a 33-year-old Air Force Veteran, took office in 2011 and chairs the Higher Education Subcommittee. Before winning his House seat, Rosenberger worked in the administration of President George W. Bush.
Rosenberger says he plans to keep job creation front-and-center in the House.
"The No. 1 priority for our state is jobs and continuing to make sure we put forward sound policy that will continue to support those things to happen in districts all throughout our state."
Not so fast
But some lawmakers are not happy with this latest development. Rep. Lou Terhar of Cincinnati says he feels this decision was not policy driven.
"It centers around two personalities and not one principle of policy is ever discussed."
Terhar believes the process pre-empts voter input that could be gathered in the November election.
"And then — having gone through that — (to) sit down and work through a way to determine the best policies and procedures that the House should have as its priorities."
Terhar says Rep. Jim Butler of Dayton is the most qualified to be speaker.
Rosenberger and Amstutz acknowledged the rift within the caucus and both said they will continue to work towards building consensus.