Loading...


Health and Medicine



Wednesday, July 2, 2014




Public health advocate pressures Summa to cut ties with HealthFair




Public Citizen sent a letter on June 19 to 20 hospitals in eight states encouraging them not to re-sign with HealthFair




Story by

TERRELL JOHNSON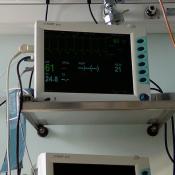 Public Citizen is questioning the value of heart tests done by HealthFair.
Courtesy of Marcin Krzy?anowski
Download (WKSU Only)
In The Region:
Updated: Healthfair has responded in a statement on its web site that the claims by Public Citizen are unfair and false and misleading.

The health research group Public Citizen is urging Summa Health System and other hospitals nationwide to stop doing business with HealthFair. HealthFair uses mobile health testing labs. But the research group thinks the company's heavily promoted cardiovascular health screening programs are unethical. Public Citizen health research director, Dr. Sidney Wolfe, says the tests are risky for patients and a conflict of interest for hospitals.
"If hospitals continue using them and allowing them to partner with doing tests and then if the test is positive, they get referred to the hospital it's more business for the hospital. It's a win-win situation for HealthFair and the hospital, but too often a lose-lose situation for the patient."
Summa says its one-year contract with HealthFair ended in May, and it's under a 90-day review. More than 3,000 people were screened by HealthFair and an undetermined number were referred to Summa.

The company declined to respond to a phone call for comment. But in a statement on Healthfair's web site, it calls the charges by Public Citizen false and misleading, and says its screening have revealed potentially urgent health conditions that could have led to a thousand heart attacks and strokes a year.

Here is the link to HealthFair's full response to the charges by Public Citizen.
---
---
Stories with Recent Comments