Loading...



From WKYC.COM / TV 3
Get the latest school closings and delays


Funding for WKSU is made possible in part through support from the following businesses and organizations.
---
For more information on how your company or organization can support WKSU, download the WKSU Media Kit.

(WKSU Media Kit


)
---

Health and Medicine



Thursday, July 3, 2014




Ohio makes progress against measles thanks to increased vaccinations




Thousands of doses of vaccine have been provided to every Ohio county affected by measles




Story by

TERRELL JOHNSON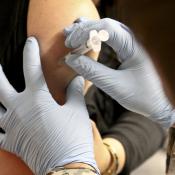 De Fijter says there are still more than 4,000 vaccination doses still available for affected Ohioans.
Courtesy of USACE Europe District
Download (WKSU Only)
In The Region:
Ohio health officials say they are starting to get a massive outbreak of measles under control. So far this year, Ohio has seen the disease spread to 368 people in nine counties. More than half of the affected victims live in Knox County. Siestke de Fijter is chief of the bureau of infectious diseases for the Ohio Department of Health. She says public awareness has been crucial.
"It's very important for people to understand that the disease is out there, that they can protect themselves by getting up to date on their shots and making sure they protect their infants by not traveling with infants to areas where there are measles outbreaks if they cannot protect their children."
De Fijter says the health department has shipped more than 14,000 doses of vaccine to the infected counties and more than 10,000 doses have been administered.
Page Options

Print this page

E-Mail this page / Send mp3

Share on Facebook
---
---
Stories with Recent Comments