Loading...


Ohio



Monday, July 7, 2014




Clean energy amendment clears first Ohio hurdle




Ballot board comes next, then collecting nearly 400,000 signatures


by WKSU's M.L. SCHULTZE


Web Editor
M.L. Schultze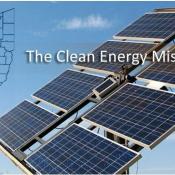 As Ohio debated -- and then passed -- a moratorium on energy efficiency standards, the movement for an amendment gained steam.
Courtesy of Yes for Ohio's Energy Future
Download (WKSU Only)
In The Region:
A plan to make clean energy a part of the Ohio Constitution has cleared the first hurdle to make it onto next year's ballot. Ohio Attorney General Mike DeWine today certified the petition for the Ohio Clean Energy Initiative. He determined that "Yes for Ohio's Energy Future" had collected the needed 1,000 valid voter signatures, and that the petition gave a "fair and truthful" summary of the amendment. Now the Ohio Ballot Board must determine if the language deals with just one issue. Then advocates must collect enough signatures to equal 10 percent of the votes for governor in the last election – which comes to a little more than 385,000 signatures. Other issues – including gay marriage and medical marijuana – also got the AG's OK for the ballot this year, but fell well short of getting the total number of signatures needed. Proponents say they try again next year.
---
---
---
Stories with Recent Comments