Loading...



From WKYC.COM / TV 3
Get the latest school closings and delays


Funding for WKSU is made possible in part through support from the following businesses and organizations.
---
For more information on how your company or organization can support WKSU, download the WKSU Media Kit.

(WKSU Media Kit


)
---

Health and Medicine



Monday, July 7, 2014




Going door to door in Canton to end gun violence




Program patterned after successful anti-violence strategies in other cities


by WKSU's TIM RUDELL


Reporter
Tim Rudell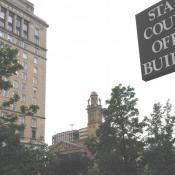 Downtown Canton from the County office building...as the rain comes rolling in
Courtesy of WKSU
Download (WKSU Only)
In The Region:
Concerned citizens and local officials in Stark County are knocking on doors to end gun violence. Members of CIRV the Community Initiative to Reduce Violence are talking to people in what they've identified as "at risk" neighborhoods to directly get and give information about gangs and violent offenders. WKSU's Tim Rudell reports .
CIRV is like "cease fire" and other anti-crime programs that have been successful in cities like Detroit. Law enforcement, service providers, and community leaders come together in four steps--identifying groups connected with violence; setting up help for individuals who want out of gangs; asking for cooperation and information from people in target neighborhoods; and calling gangs and chronic offenders to a meeting to explain how they can get rid of their guns, and the kind of intense law enforcement attention they'll see if they don't.
Canton clergyman Walter Moss directs the program in Stark County where what he calls the "boots on the ground phase" is underway. "Well you make it personal in their neighborhood, at their door step. And that lets them know that we really do care. This project, to me, says 'we care about our community'… we care about Canton, Ohio, about Stark County."

CIRV is coordinated through the Stark County Prosecutor's office.
---
---