Loading...


Government and Politics



Tuesday, July 8, 2014




When it comes to a severance tax, FitzGerald differs with Kasich on how, not necessarily how much,




Democratic candidate says local communities deserve more say




by WKSU's STATEHOUSE CORRESPONDENT JO INGLES



Reporter
Jo Ingles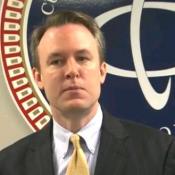 Democratic candidate Ed FitzGerald clarifies his stance on a severance tax.
Courtesy of File photo
Download (WKSU Only)
In The Region:
Ohio's Democratic gubernatorial candidate says he supports a hike in the state tax on oil and gas – just not one structured the way Gov. John Kasich is proposing. Kasich and fellow Republicans in the Legislature have been debating a hike for two years. Lawmakers are proposing a much smaller increase than Kasich, saying they don't want to take steps that could hurt the state's burgeoning fracking industry. On WOSU last week, FitzGerald says his problem isn't with how much the tax should be – but how it should be structured.
"There are counties in some parts of the state that still have double digit unemployment. And for the state to come along and say we are going to tax this natural resource and we are going to keep almost all of the money for the state budget, which by the way is dramatically bigger than it was under Governor Kasich's predecessor (former Democratic Gov. Ted Strickland), and we are going to keep it for ourselves, for our own budgetary priorities, without sitting down with local folks out there and saying, 'Here's how we can invest in the local community,' I think is wrong."
Kasich's pushing for a severance tax of 2.75 percent and 20 percent of that amount would go to impacted communities. The rest would go to the state. Even a smaller 2.5 percent proposed severance tax is stalled in the legislative process for now.
---
---
---
Stories with Recent Comments