Loading...



From WKYC.COM / TV 3
Get the latest school closings and delays


Funding for WKSU is made possible in part through support from the following businesses and organizations.
---
For more information on how your company or organization can support WKSU, download the WKSU Media Kit.

(WKSU Media Kit


)
---

Government and Politics



Tuesday, July 8, 2014




Cleveland recommended to host the 2016 GOP Convention




After a months-long process, the site-selection committee makes a recommendation, which the party will vote on in August


by WKSU's KABIR BHATIA


Reporter
Kabir Bhatia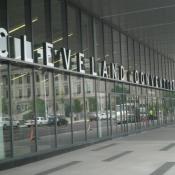 Cleveland's new convention center hosted its first major event in 2013, the national Senior Games, which brought a wave of visitors and money to town.
Courtesy of Kevin Niedermier
Download (WKSU Only)
In The Region:
Cleveland has beaten out Dallas for the nod from a site-selection committee to host the 2016 Republican National Convention. The GOP has been evaluating cities for months based on accommodations and entertainment for guests. Cincinnati and Columbus had also been in the running, but dropped out in earlier rounds. Republicans are expected to officially vote on the site in early August. Cleveland was also in the running for the 2016 Democratic convention, along with Columbus. Democrats are slated to tour that city in August.
---
---