Loading...


Government and Politics



Tuesday, July 8, 2014




How sports affected the GOP's choice of Cleveland for 2016




Dallas may have lost its bid based on how potential NBA and NHL playoffs would tie-up its arena


by WKSU's KABIR BHATIA


Reporter
Kabir Bhatia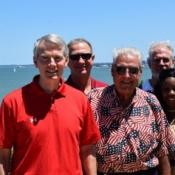 Portman with the 2016 Cleveland Host Committee on July 4th
Courtesy of Portman staff
Download (WKSU Only)
In The Region:
Ohio's Republican senator agrees with Dallas that the GOP's choice of Cleveland for its 2016 convention could have been affected by sports. WKSU's Kabir Bhatia reports.
In Dallas, the American Airlines Center is home to basketball's Dallas Mavericks, and the Dallas Stars hockey team. Both teams have made the playoffs multiple times in the past decade. And that's one of the main reasons Dallas feels it lost out on the convention: if the Stars and/or the Mavericks make the playoffs in June, 2016, that's a scheduling conflict for the Republicans. Not to mention a lack of hotel space.

The GOP is looking at either June 27 or July 18 for its convention in two years. Ohio's Republican senator, Rob Portman, says Cleveland will make sure it's ready, whether or not the Cavs are in the playoffs.

"Part of what Chairman Priebus was looking for was the ability to have a convention in June. We all hope the Cavs will be in the finals, with Kyrie Irving and maybe some help from a former Cav -- named LeBron James, who knows what's going to happen there -- they may get in the Finals. But if they do, Dan Gilbert and his team have come up with a plan."

Ohio's other senator, Democrat Sherrod Brown, lives in Cleveland and applauded the choice, calling it another step forward in the city's renaissance. Cleveland has hosted only two national conventions, both for the Republicans -- in 1924 and 1936.
---
---
---
Stories with Recent Comments