Loading...



From WKYC.COM / TV 3
Get the latest school closings and delays


Funding for WKSU is made possible in part through support from the following businesses and organizations.
---
For more information on how your company or organization can support WKSU, download the WKSU Media Kit.

(WKSU Media Kit


)
---

Ohio



Tuesday, July 8, 2014




Ohio same-sex couples ask court for same rights as heterosexuals




Those rights include birth certificates with both names for their children, allowing the parents to enroll their children in school, to obtain insurance and to freely travel together




Story by

TERRELL JOHNSON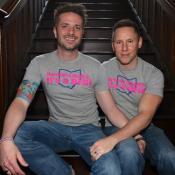 Nineteen states and the District of Columbia have legalized same-sex marriage. Judges in several other states have said that their states must recognize gay marriages performed in other states.
Courtesy of FreedomOhio.org
Download (WKSU Only)
In The Region:
Attorneys for same-sex couples fighting to have their marriages recognized in Ohio are urging a federal appeals court to grant them the same rights as heterosexual couples. Arguments filed today, ask the court to strike down the state's 2004 gay marriage ban, arguing that it's unconstitutional and demeaning. They are a preview of what's to come on Aug. 6, when the court hears oral arguments in cases from Ohio, Michigan, Kentucky and Tennessee. The 84-page brief calls on the 6th U.S. Circuit Court of Appeals to endorse a ruling in April made by federal Judge Timothy Black, who said the state's refusal to recognize valid same-sex marriages is unconstitutional. Judge Black adds that Ohio is unlikely to prevail in its appeal. Attorneys for the state have argued that it is Ohio's sole province to define marriage as between a man and a woman. Ohio Attorney General Mike DeWine has vowed to uphold the state's gay marriage ban, which also prevents the children of same-sex couples to have both parents' names on birth certificates
Page Options

Print this page

E-Mail this page / Send mp3

Share on Facebook
---
---
Stories with Recent Comments