Loading...


Ohio



Wednesday, July 9, 2014




National Weather Service confirms three tornado touchdowns yesterday




The tornadoes were small but still caused damage to communities




by WKSU's LYNDSEY SCHLEY



Reporter
Lyndsey Schley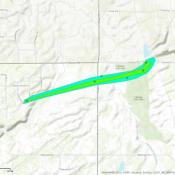 This map shows the path of a tornado in Medina county Tuesday.
Courtesy of National Weather Service Cleveland
Download (WKSU Only)
In The Region:
The National Weather Service has confirmed three tornado touchdowns in Northeast Ohio yesterday. Martin Thompson says two of the tornadoes touched down in the Medina county communities of Valley City and Hinkley. The other tornado was in Canfield Township in Mahoning County. All of the tornadoes were EF1s at their strongest, low on the Enhanced Fujita scale, which measures tornado intensity. Thompson says small, clustered tornadoes are common in Ohio.
"A lot of our tornadoes are small in size and sometimes are hard to detect, but they can still do just as much damage as the larger ones," Thompson says.
Thompson says the tornadoes uprooted trees and damaged homes, garages and even a golf course. He says he is not aware of any injuries from the storm.
Thompson says two of the tornadoes reached top speeds of 94 miles per hour.
---
---
---
Stories with Recent Comments