Loading...



From WKYC.COM / TV 3
Get the latest school closings and delays


Funding for WKSU is made possible in part through support from the following businesses and organizations.
---
For more information on how your company or organization can support WKSU, download the WKSU Media Kit.

(WKSU Media Kit


)
---

Sports



Wednesday, July 9, 2014




Cedar Point offers LeBron his own roller coaster




The amusement park is offering to rename a roller coaster "King James" if the NBA star decides to sign with the Cavs




Story by

TERRELL JOHNSON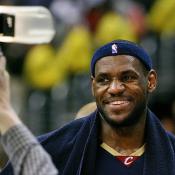 Rumors of Lebron returning to Cleveland are the talk of the sports world.
Courtesy of Keith Allison
Download (WKSU Only)
In The Region:
The possibility of LeBron James coming back to Cleveland has the entire region on its toes. One northeast Ohio institution can't wait to do business with the Akron native if he does indeed return home. Cedar Point's Bryan Edwards tweeted today that if LeBron comes back to play for the Cavs they will name one of their roller coasters "King James."
"Were just having fun with the moment right now."




Edwards says, "like the rest of this area and honestly the rest of the sports universe, were all just waiting on LeBron's response. So if he makes the decision to come back, we'll meet here internally and find out which coaster is going to be renamed. But if he does make the decision to come back, we'll gladly listen to his suggestions as well."
A 3-team trade today by the Cavs raised their salary ceiling should James decide to return to Cleveland.

Free agent James is meeting with Miami Heat President Pat Riley tonight to decide his future with the Heat.
Page Options

Print this page

E-Mail this page / Send mp3

Share on Facebook
---
---
Stories with Recent Comments