Loading...


Sports



Thursday, July 10, 2014




Waiting for LeBron




A lot of NBA plans, as well as Cleveland's hopes, are hanging on The Decision II


by WKSU's KEVIN NIEDERMIER


Reporter
Kevin Niedermier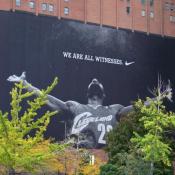 The massive mural in Cleveland came down when LeBron headed for Miami four years ago.
Courtesy of File photo
Download (WKSU Only)
In The Region:
Cleveland, Miami and much of the sports world is still waiting to hear if NBA superstar LeBron James will stay with the Heat or come back home to the Cleveland Cavaliers. WKSU's sports commentator Terry Pluto says -- to be fair to James -- today is the first official day a free agent can sign a new contract. But Pluto says James is holding up the plans of a lot of other players and teams because they need to follow what he does.
"He could have said two days ago I'm going to sign with Cleveland when the timecomes, but actually, today's the first day to sign the contract. But in my mind, there's no reason to drag it out past today because most other guys want to sign contracts with other teams, too.

"Remember in the NBA, there's salary caps. You can't just collect the three best players and pay them anything I want like in baseball. That is why there's a lot of impatience around the NBA about what LeBron's going to do. It impacts teams, it impacts other players and it impacts your salary cap.
And Pluto says the Northeast Ohio anger James generated when he left for Miami four years ago will grow even hotter if he decides to stay in Miami after building up the hope that he may return to Cleveland.
---
---
---
Stories with Recent Comments