Loading...


Environment



Friday, July 11, 2014




Forecasters expect significant toxic algae blooms this summer




Blooms are not expected to break records, but they could still be dangerous




Story by

KAREN SCHAEFER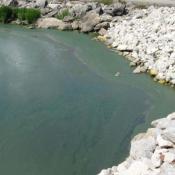 Algae blooms in Lake Erie are expected to significant this summer.
Courtesy of WKSU File Photo
Download (WKSU Only)
In The Region:
The National Oceanic and Atmospheric Administration says toxic algae blooms in western Lake Erie this year may be significant, due to heavy spring rains.
NOAA scientists says this year's bloom of toxic algae will likely be smaller than the massive 2011 outbreak, which drifted all the way to Cleveland. But even smaller blooms can cause public health problems.

Last year, Carroll Township in western Ohio had to shut down its water supply for several days, because levels of toxins from the algae, called microcystin, were so high. University of Toledo researcher Tom Bridgeman says Toledo came very close to doing the same thing.

"It almost had to issue a warning not to drink the water, because microcystin levels were close to the level of 'do not drink,'" Bridgeman says.

In Lake Erie, algae blooms are fed by too much fertilizer running off farm fields. Ohio farm bureaus are urging farmers to reduce their fertilizer to avoid regulation. NOAA researchers say harmful algae blooms are now present in all 50 states.

President Obama just signed a bill authorizing $82 million for new research aimed at controlling toxic algae outbreaks nationwide. A portion of that research will focus on the Great Lakes.
---
---
Stories with Recent Comments