Loading...


Sports



Friday, July 11, 2014




LeBron says "My relationship with Northeast Ohio is bigger than basketball"




NBA megastar is returning to play for the Cavs -- and, he says, the community


by WKSU's M.L. SCHULTZE


Web Editor
M.L. Schultze
LeBron James' essay on SI.com read in part: "I want kids in Northeast Ohio, like the hundreds of Akron third-graders I sponsor through my foundation, to realize that there's no better place to grow up."
Courtesy of File photo
Download (WKSU Only)
In The Region:
In his announcement that he's returning to play for the Cleveland Cavaliers, LeBron James says, "My relationship with Northeast Ohio is bigger than basketball. I didn't realize that four years ago. I do now." Two weeks of suspense were finally broken shortly after noon today, when the Akron native and NBA superstar announced he'll play for the Cavs next year.
He left Cleveland four years ago to become a free agent in Miami. He made the announcement then in a live national TV broadcast that left Cavs fans and owner Dan Gilbert angry.
Another exerpt from LeBron James' essay on SI.com:
"When I left Cleveland, I was on a mission. I was seeking championships, and we won two. But Miami already knew that feeling. Our city hasn't had that feeling in a long, long, long time. My goal is still to win as many titles as possible, no question. But what's most important for me is bringing one trophy back to Northeast Ohio."
He referred to that reaction in his new announcement today on SI.com,saying a scathing public letter from Gilbert, "the booing of the Cleveland fans, the jerseys being burned -- seeing all that was hard" for his family.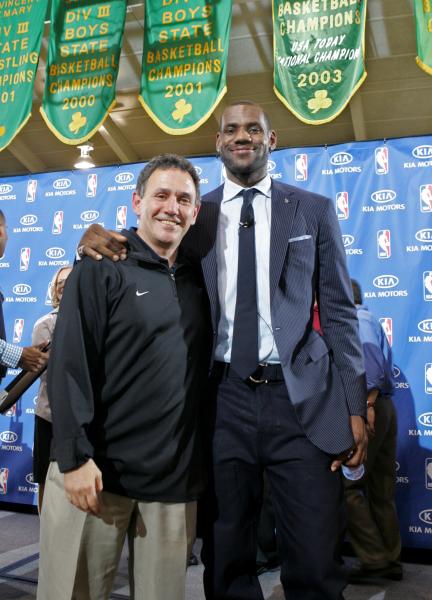 Today's announcement has been anticipated and debated for the two weeks since James announced he's forgoing the final two-year option on his contract with Miami and becoming a free agent.
He's expected to earn nearly $21 million a year. But in closing his piece onSI.com, James said, "In Northeast Ohio, nothing is given. Everything is earned. … I'm ready to accept the challenge. I'm coming home."


Here's a link to LeBron James' stats:
http://espn.go.com/nba/player/_/id/1966/lebron-james
---
---
---
Stories with Recent Comments