Loading...


Sports



Friday, July 11, 2014




Pluto: LeBron's decision was mature and committed to more than basketball




And WKSU's sports commentator says he may draw other NBA players here as well


by WKSU's KEVIN NIEDERMIER


Reporter
Kevin Niedermier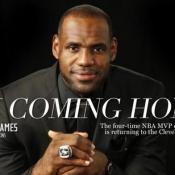 In the SI.com essay, James says he's come to realize that Northeast Ohio is bigger than basketball for him.
Courtesy of si.com
Download (WKSU Only)
In The Region:
In one of the most anticipated event in sports worldwide, LeBron James announced today he's coming home to play again for the Cleveland Cavaliers. The Akron native made his announcement on Sports Illustrated's website, SI.com. In it, James' said when he left Cleveland four years ago to try to take the Miami Heat to a championship, he didn't realize how much Northeast Ohio meant to him. And after winning two NBA rings in Miami, he says his goal is bringing one to Cleveland. WKSU sports commentator Terry Pluto expects the Cavs to win at least 20 more games next season with James. The team won just 33 this year. Pluto says having him on the team has other benefits.
"Now it becomes a very attractive place for some guys who ordinarily would never imagine playing for Cleveland because they love to play with LeBron James. It isn't just the winning with LeBron; LeBron is a very unselfish player. And he excites other guys, the idea of being on the court with him.
"Right now, Cleveland has become the center of the NBA universe. And boy, that's a shocking thing to say."
Pluto calls James' announcement a mature decision by someone who loves Northeast Ohio, and is doing what he feels is best for his family.



---
---
---
Stories with Recent Comments