Loading...


Ohio



Friday, July 11, 2014




Fan thoughts on LeBron, then and now




Revisiting the story of how the original "decision" played in LeBron's home town...and what people there are saying now


by WKSU's TIM RUDELL


Reporter
Tim Rudell
In The Region:
When LeBron James announced his "decision" four years ago WKSU's Tim Rudell was with local fans in one of Akron's best known sports pubs, Rockne's at Market and Merriman. Friday, he stopped back in.
Four years ago
Rockne's on Akron's near west side was a gathering spot for fans waiting to watch LeBron James announce whether he would stay with the Cleveland Cavaliers or join the Miami Heat. As he said on the big screen TVs that he was taking his "talents to South Beach"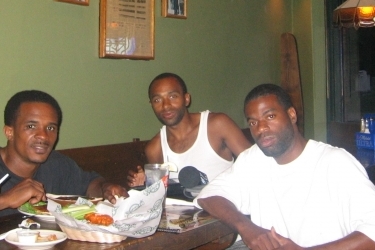 three patrons sharing dinner in a booth near the bar also shared their thoughts

Johnathan Pensen said James would make the Heat a great NBA team, but he was really disappointing a lot of people in northeast Ohio. J.R. Hollison said Cleveland fans shouldn't feel that LeBron is abandoning his home town because basketball's biggest star is from Akron, not Cleveland. And Solomon Stallings said the biggest concern should be over how many local kids who idolize James will be disappointed by the move...
Four years later
there's another crowd in Rockne's for another LeBron "decision." And Larry Spear and Jack Jeter are in the booth by the bar. Spear said James is a local hero again,
who is making things right and who will bring tremendous excitement to northeast Ohio. Jeter agreed and observed that basketball's "King James" gives the area, and Akron in particular, a mega celebrity again who can create positive influences...and that LeBron has a history of giving a voice to people in the community who need it.
Coming back
As Jack Jeter and Larry Spear wrapped up lunch and headed for the parking lot they talked about what may have been the final thing that moved LeBron to decide to come back. Behind them a patron at the bar quipped…he clicked his ruby sneakers together three times and said 'there's no place like home'…"
---
---
---
Stories with Recent Comments