Loading...





Tuesday, July 15, 2014




Cold weather trough moves into Ohio for the next few days




Meteorologist says while similar, "Polar Vortex" may be a bit of a misnomer for the system




by WKSU's LYNDSEY SCHLEY



Reporter
Lyndsey Schley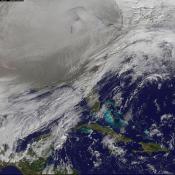 The weather system moving into Ohio is similar to January's polar vortex, but temperatures will be in the high 60s as opposed to below zero.
Courtesy of NOAA/NASA GOES Project
Download (WKSU Only)
In The Region:
Tomorrow's anticipated cold snap has many weather watchers calling it a "polar vortex." However, National Weather Service meteorologist John Mayers says that term is usually reserved for winter months. Whatever you call it, he says a deep trough of cold air from the north will move over the area in the next few days.
"It's not really going to linger," Mayers says. "It's not like what we saw this winter and obviously temperatures aren't going to be as cold because we are in summer versus winter. So, I'm thinking the worst of it will be Wednesday again with highs mostly in the upper 60s and by Thursday, we should be back into the lower 70s."
Mayers says that is still below average but will be an improvement.
The cold trough does raise concerns for another cold winter, Mayers says. But forecasters are expecting an El Niño in late fall to early winter. He says that should lead to a relatively warm, dry winter.
---
---
---
Stories with Recent Comments