Loading...


Sports



Friday, July 18, 2014




LeBron's formal welcome home will be Aug. 8th




Stadium-sized crowd in Akron is expected to greet the favorite son and returning NBA star


by WKSU's M.L. SCHULTZE


Web Editor
M.L. Schultze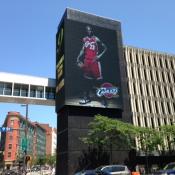 Within hours of LeBron James' announcment that he's coming back to NE Ohio, the welcome signs were out.
Courtesy of Living at 9, Cleveland
Download (WKSU Only)
Akron plans to formally welcome LeBron James home with a rally at the University of Akron's football stadium on Aug. 8. A week ago, the Akron native and NBA's four-time MVP announced in an essay on Sports Illustrated-dot-com that he's returning from Miami to play for the Cleveland Cavaliers. He left Cleveland in 2010, but never gave up his home in Bath Township. He's maintained a strong relationship with his alma mater, St. Vincent St. Mary High School in downtown Akron, and his LeBron James Family Foundation has continued to focus on drop-out prevention in Akron schools.
Welcome Home LeBron Community Rally:
When: Aug. 8, 7:15-9 p.m.
Where: University of Akron InfoCision Stadium, 302 E. Buchtel Avenue, Akron OH 44325
---
---
---
Stories with Recent Comments