Loading...


Economy and Business



Friday, July 18, 2014




Portman visits Lordstown amidst GM recall




Ohio's Republican says there must be accountability and consequences in the recall of millions of Chevy Cobalts and other vehicles made by 'the old GM'


by WKSU's KABIR BHATIA


Reporter
Kabir Bhatia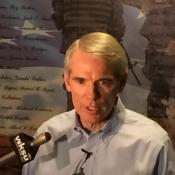 Republican Senator Rob Portman lauded the staff at GM Lordstown, which was nearly idled before a 2010 makeover
Courtesy of K. Bhatia
Download (WKSU Only)
In The Region:
Ohio's U.S. Sen. Rob Portman's tour of the state's auto plants continued today at the GM facility in Lordstown. WKSU's Kabir Bhatia reports on the Republican's visit in the middle of GM's massive recall.
Lordstown used to make the Chevy Cobalt, which touched off the recall of millions of GM vehicles. Portman, who co-chairs the Senate auto caucus, says hearings on Capitol Hill have been a search for accountability.

"Specifically, was there some sort of an effort to hide this from the consumers and from the general public? And if so, there needs to be not just accountability, but consequences. And it can't happen again. In my experience today -- these cars that are coming off the lines today -- are being checked and double-checked."

In 2010, Lordstown got a $350 million makeover to make the Cobalt's replacement, the Chevy Cruze. The company says the older car's problems are symptomatic of the old, pre-bankruptcy GM. Spokesman Tom Mock says the bestselling compact has done much to turn the automaker around.

"I think we all know, in life, things sometimes are unfair. We all go through things like that. We have a mature workforce here. They're focused on the car that we're building. They all feel compassion for what's happened. But they understand that we have a job to do and we'll continue to do that job."

Nearly half of the workforce at Lordstown has at least 30 years of experience.
---
---
---
Stories with Recent Comments