Loading...


Economy and Business



Friday, July 18, 2014




Report: National Parks continue to contribute big to Ohio's economy




Visitor spending supports 2,300 jobs and creates $149 million in economic benefits




Story by

TERRELL JOHNSON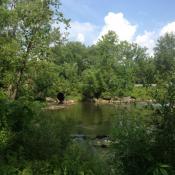 Cuyahoga Valley National Park is one of the largest and most visited parks in the country.
Courtesy of Kabir Bhatia, WKSU
Download (WKSU Only)
In The Region:
National parks are worth nearly $150 million to Ohio. That's according to a new report by the National Park Service. It says that last year, the parks in Ohio hosted 2.4 million visitors who, in turn, supported 2,300 jobs. Of those parks, the largest by far is the Cuyahoga Valley National Park. Park service spokesman Jeffrey Olson says parks have a major influence on communities nationwide.
"It's not about entry fees that are charged at a national park or whether there is an entry fee or whether there is an entry fee or not. This is strictly a look at how visitors coming to the communities near national parks pay money for lodging, food, beverages, and souvenirs things like that and how that impacts that community."
But the 2013 numbers were down slightly from 2012, largely because of the two week government shutdown.
Other parks include presidential birthplaces and Perry's monument of South Bass Island.
---
---
Stories with Recent Comments