Loading...


Economy and Business



Monday, July 21, 2014




Scientists worry about Oklahoma's recent earthquake swarm




and whether it is coming from the shale drilling boom


by WKSU's TIM RUDELL


Reporter
Tim Rudell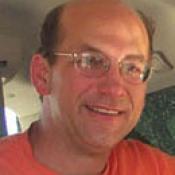 Geophysicist Robert Williams coordinates the Central and Eastern Region of the U.S.G.S. Earthquake Hazard Program
Courtesy of USGS
Download (WKSU Only)
In The Region:
An unprecedented outbreak of earthquakes continues to rumble under Oklahoma…a shale-boom state like Ohio. And, as in Ohio, there is concern about a possible correlation between seismic activity and high pressure injection wells used to dispose of waste fluids from oil & gas drilling. WKSU's Tim Rudell reports
Oklahoma has had an average at least one magnitude 2.5 or greater earthquake every day this month. Rob Williams coordinates the U.S. Geologic Survey's Earthquake Hazards Program east of the Rockies. He say that's a level of seismic activity that has been dramatically intensifying since 2009. "Before 2009 Oklahoma averaged one or two magnitude threes or greater a year. In two thousand fourteen they've had two hundred forty seven."

A shale drilling boom came to Oklahoma in 2009, too. Williams says his agency is studying the correlation; and especially looking at something we're familiar with in northeast Ohio: the link between quakes and the deep injection wells used to dispose of millions of gallons of fracking fluid.. "Oklahoma may be like Youngstown, where wastewater injection is contributing to earthquake activity."

One Youngstown quake reached four-point-oh. Oklahoma has had twenty of those or greater since 2009, including a five-point-six.
---
---
---
Stories with Recent Comments